Serving communities in Pinellas, Hillsborough, Pasco, and Manatee counties
Concrete Lifting & Leveling • Soil & Sidewalk Erosion Repair • Trip Hazard Grinding • Void Filling • Soil Stabilizing
Cracked, broken, or uneven concrete on a driveway, pool deck, or sidewalk isn't just unsightly — it's dangerous!
You don't have to live with it, and you don't have to pay high prices for less effective "solutions" like mud jacking.
We use the latest proven technologies that handle both the visible and hidden issues to deliver guaranteed results every time.
Our professional crews are factory-trained and certified by Prime Resins, a manufacturer with over 40 years experience in this industry.
Our Founder • Ron Davidson
Hi, I'm Ron Davidson, founder and owner of Concrete Leveling Pros. Thank you for visiting our website and taking the time to learn more about our company and services.
Having qualified from a polymer technology school in 1993, I have over 25 years of hands-on experience with polyurethane foam in various applications and have decades of experience in the building and construction industries.
I take pride in the work we perform for our customers, and maintain very high standards of work ethics, integrity, and punctuality.
Need help with cracked, uneven, or broken concrete in your yard? Call me today for a free, no-obligation consultation and estimate.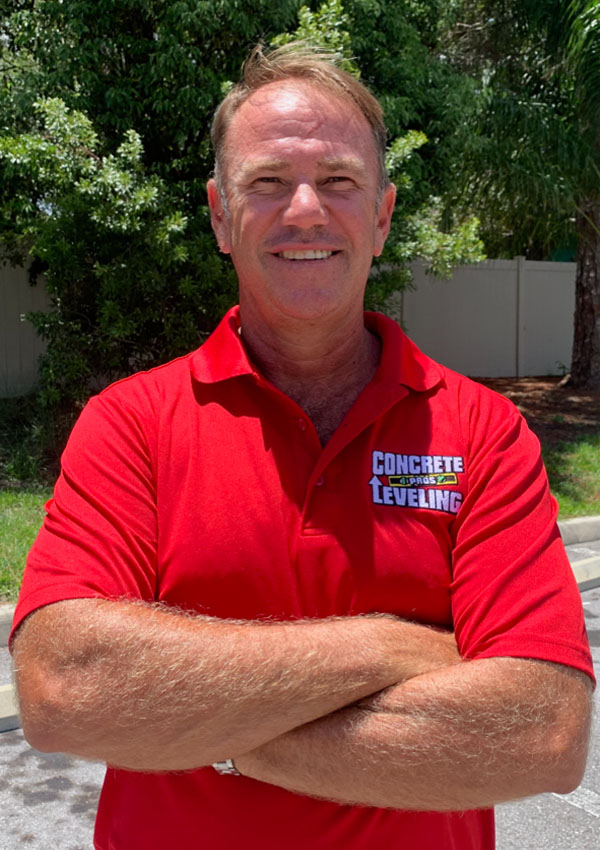 Ronald Davidson, you and your company are hereby recognized as a Top Gun Pinellas County concrete lifting and soil stabilization company by the County Advisory Board.
Top Guns are recognized as someone whose skills and services go above and beyond the call of duty to make their local communities and counties a better place to call home… [Read More]
Ready for smooth, level concrete?
Call for your free estimate today.