How long does your process take?
It generally only takes a few hours from the time our team arrives until we're finished with your project. Once we leave, you will have the immediate use of your driveway, walkway, or pool deck with no additional down-time.
How much damage will there be to my property from process?
A 3/8″ hole is drilled into the concrete surface that will be refilled and repaired once the leveling process is complete. Unlike mudjacking (for examaple) our process does not require any heavy machinery to damage your lawn or landscape.
Can you get into my enclosed pool area?
Absolutely! Our machine is as wide as a regular door opening and no removal of doors or gates are needed.
How long will this foam last?
Indefinitely. The only way this material can break down is by exposure to UV light, and of course UV light can not penetrate a concrete slab.
Is it environmentally friendly?
Yes, it is. In fact, all our products are tested to meet NSF/ANSI standard 61-5 for contact with environment and potable water.
Why use Foam Poly Jacking instead of Concrete Slab Jacking?
Foam compresses the soil before lifting the slab, which is an advantage. Foam is lighter, much less expensive, requires no heavy equipment, and there is no down-time.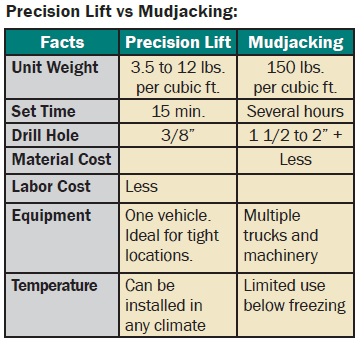 Get Your Free Estimate Today